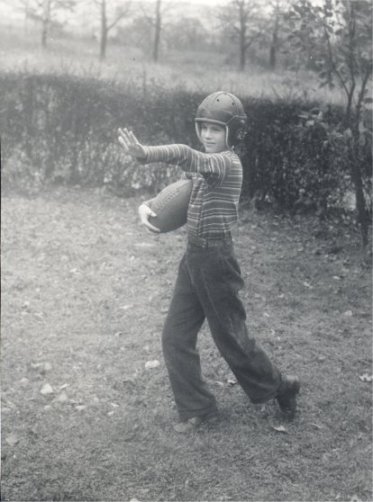 John in Heisman Pose, 1945
Looking South from backyard at 229 S. 24th St.
Allentown, Pennsylvania


Ditchem': Best played over an entire block comprising friendly householders. One person is 'it', everyone else hides. 'It' searches for anyone else, tagging him as soon as possible. When the hider is tagged he becomes part of the hunting team. The two hunters can search in tandem or their own, trying to tag additional hiders. Hiders are converted to hunters until finally everyone else is looking for the sole remaining hider and finally he is tagged. The game is then restarted (if any daylight hours remain). The new 'it' can be determined in any agreed manner, possibly the first hider who was tagged.
Pass Football: I learned this game on the playground at Raub Elementary School in Allentown, Pennsylvania. We called it 'Rugby' but it has little in common with that game. It is played in general like regular (U.S.A) football but the ball (football or tennis ball or beanbag - we used all of them) may be thrown (passed) at any time in any direction. If the pass is incomplete, the next down begins at the point the ball was thrown. There are four downs; no first down. There is no kicking - the ball is thrown to the other team after a score. The game could be played as flag footabll, but we just used one hand below the waist. The number of players on a side can vary between 2 and 30. With 60 players total it is probably better to have two games with 15 players on a side. Both games can be played simultaneously on the same field. There is no blocking. Immense fun.
Workup; Basketball; Sandlot Football; Kick the Can.